Why Choose So White?
We are professional mobile teeth whitening specialists with a passion for brighter, whiter smiles.
Designed for today's busy lifestyles, we offer fast and effective results with no discomfort.
Our team of registered dental hygienists will guide you along your whitening journey and help transform your everyday smile into one you'll always want to show off!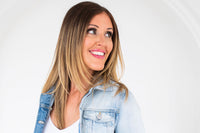 customer reviews
The BEST teeth whitening service! I have had my teeth whitened by a few different
providers and So White's service is the first time my teeth haven't beens
sensitive after! Not only that, the results are amazing and Bianca is extremely
knowledgable and friendly. Thank you for my pearly whites!!

Kelsey Rose
Amazing and painless! Let me preface this by saying that my only experience with teeth whitening prior to meeting Bianca was at a dentist office and I experienced one of the most acute painful gum and tooth pain attacks I've ever had. I was petrified to try teeth whitening again but Bianca explained the process and her method and assured me I wouldn't feel pain! She was right and not only that, the results were amazing! I love that she's a licensed dental professional and comes to treat you in the comfort of your home. I'll never go anywhere else for teeth whitening and i recommend her to all of my friends and family!

Dr. Leah Smith, My Beauty Doctor
This was my first teeth whitening experience,
so I wasn't sure what to expect!  Not only were our results amazing but
having the lovely Bianca come to us in the comfort of our home, was just a
delight.  I would HIGHLY recommend So White.  Can't wait till our next
appointment.  

Deborah Walke